Calmiq
Building trust and credibility for divers within their diving community to allow for better education on ocean preservation
MOBILE APPLICATION
With a majority of the world covered by 4 major oceans, we believe that we all have the responsibility towards ocean preservation for the benefit of future generations. We created CALMIQ, a mobile application intended for people who are interested in the diving domain and want to experience diving in controlled environments with safe and reliable personnel that are offered through certified local dive shops.
INTERFACE DESIGN | AUG 2017
Proposed research area: Ocean Conservation
Description: Senior Academic Project
Project timeframe: 6 weeks

Role: User Research, Ideation, Visual Design, Prototyping
DISCOVERY
The Problem
Within the realm of ocean conservation, we explored four main categories:
But ultimately, we saw value within the diving community, especially in the realm of social possibilities. We saw an opportunity to provide touchpoints in this regard. We scoped down our initial intention of tackling ocean preservation by focusing on a specific community who would directly aid in furthering the benefit of ocean health. We asked ourselves:
How might we build trust with divers and their community in order to further the betterment of ocean health?
With CALMIQ, we hoped to solve this issue so divers can take diving classes and learn more about the habitats they'll be in while out in the ocean. With the proper education and entrusting the urgency of ocean conservation in the hands of experienced diving instructors, we hope to provide an experience that allows for more light to be shed on ocean health and betterment.
The Research
As outside designers, we quickly discovered that we had a lot to learn about the diving community and ocean conservation in general. In addition to searching the web, we found it necessary to conduct interviews with real divers and diving instructors. I took the responsibility of visiting a local dive shop, Ocean Quest Dive Centre, while another team mate interviewed some divers he knew. Some of us also took part in a shoreline cleanup in order to better understand the process behind ocean conservation initiatives and gain insight from the people who took part.
We were able to come away with enough insights to construct three distinct personas:
In addition, we mapped out the entire diving experience, to better understand pain points and best areas to intervene. We ultimately decided to target the pre- and post- moments of diving, because these were the areas that had many potential pain points and uncertainty from a user's perspective.
APPROACH
The Solution
We designed a location-based browsing interface to locate dive shops in an area. CALMIQ is designed to for people who are interested in the diving domain and want to experience diving in controlled environments with safe and reliable personnel who can be found through certified local dive shops.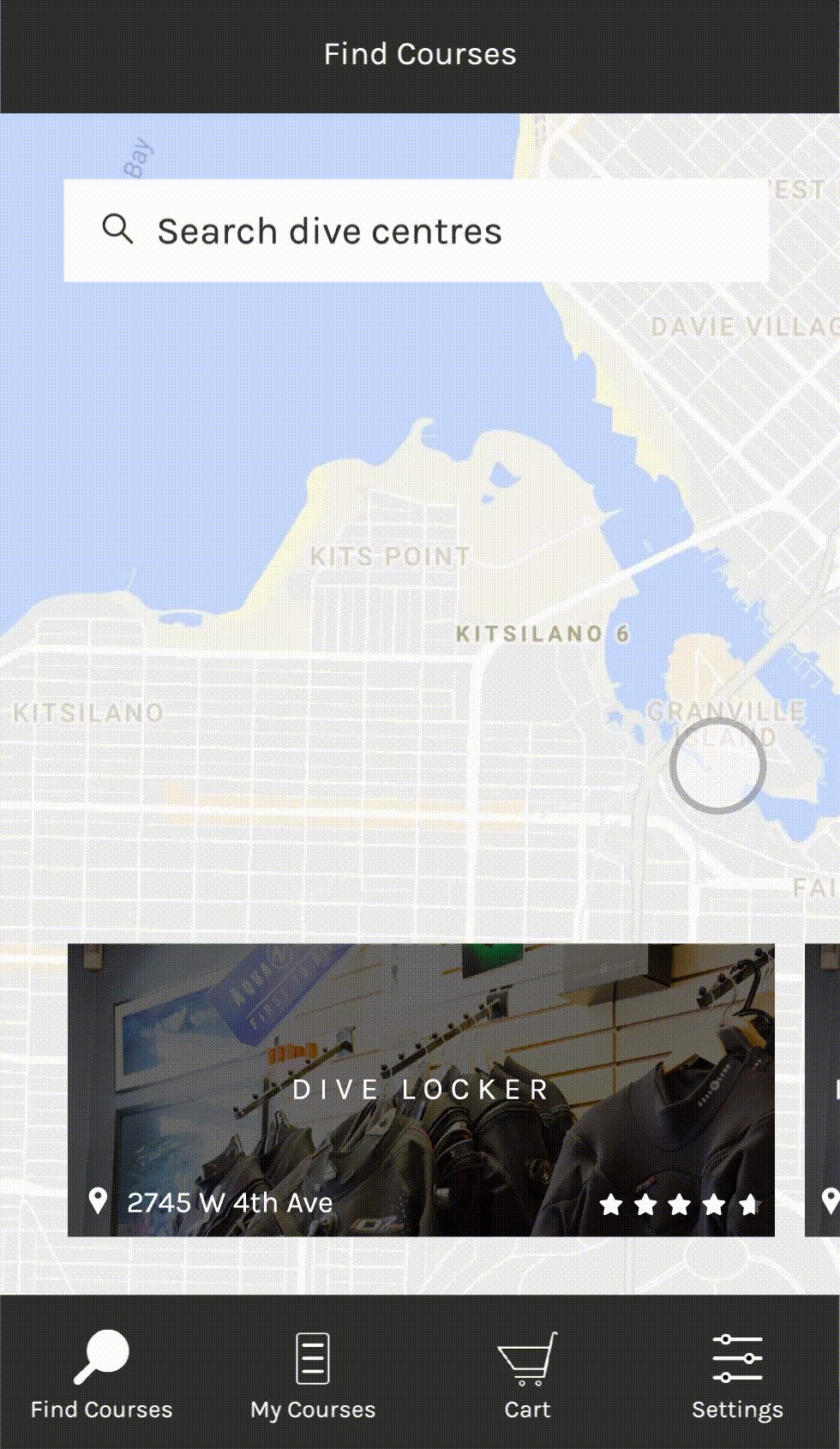 We designed a location-based browsing interface with clear, visual feedback in order to help locate dive shops.
Starting with locations makes sense for divers as they often make decisions on where to travel based on diving destinations.
CALMIQ would aid in the process of familiarizing the diver with PADI-certified dive shops and resources in the local area.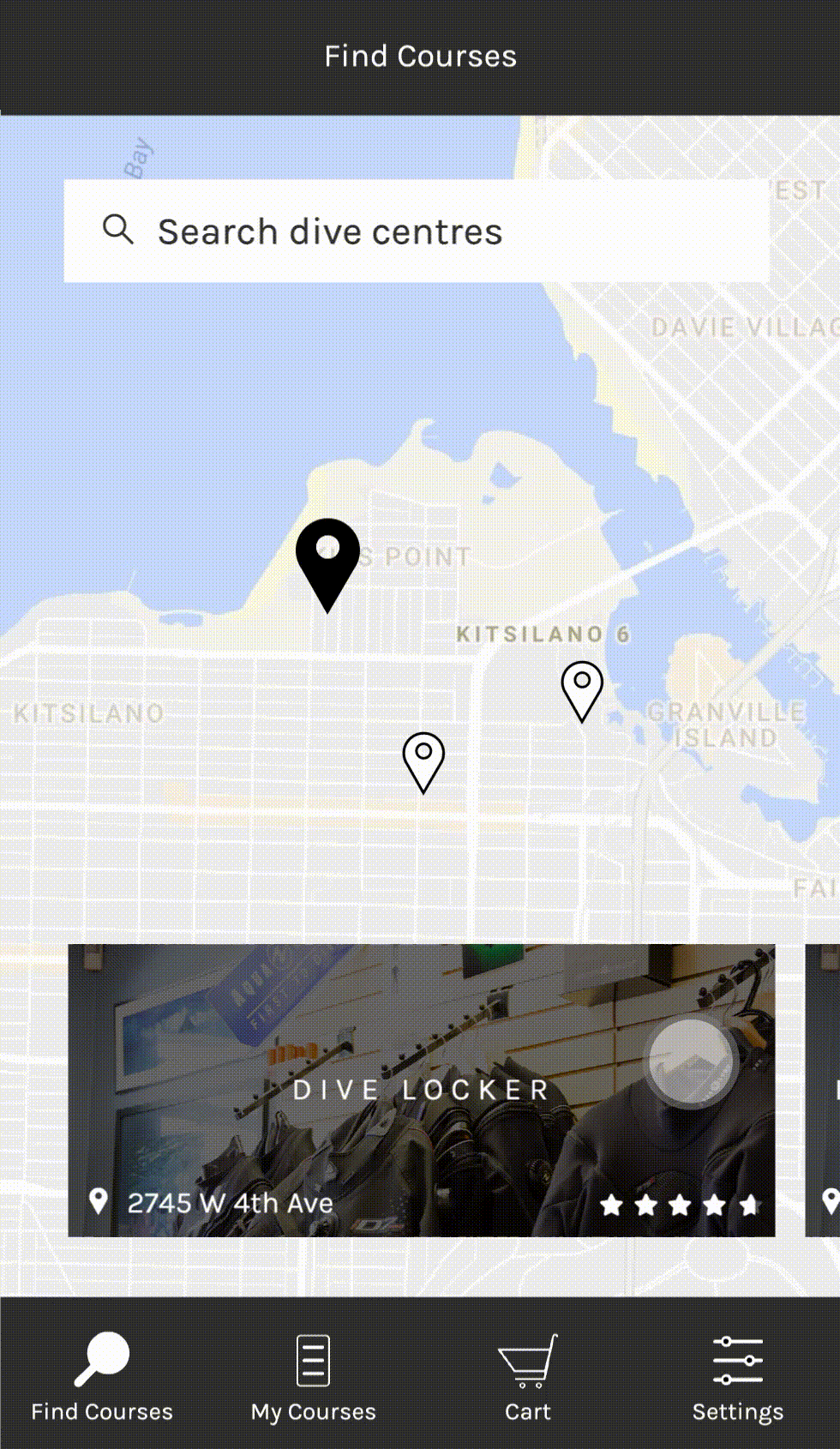 After picking the dive shop, users can browse through course categories and search for courses.
We decided to go for a card-style interface because it would reduce the cognitive overload of the logistics behind every course.
Having these chunks of digestible information and iconography is beneficial for both the experienced and not experienced, to just have a quick glance at what each course offers.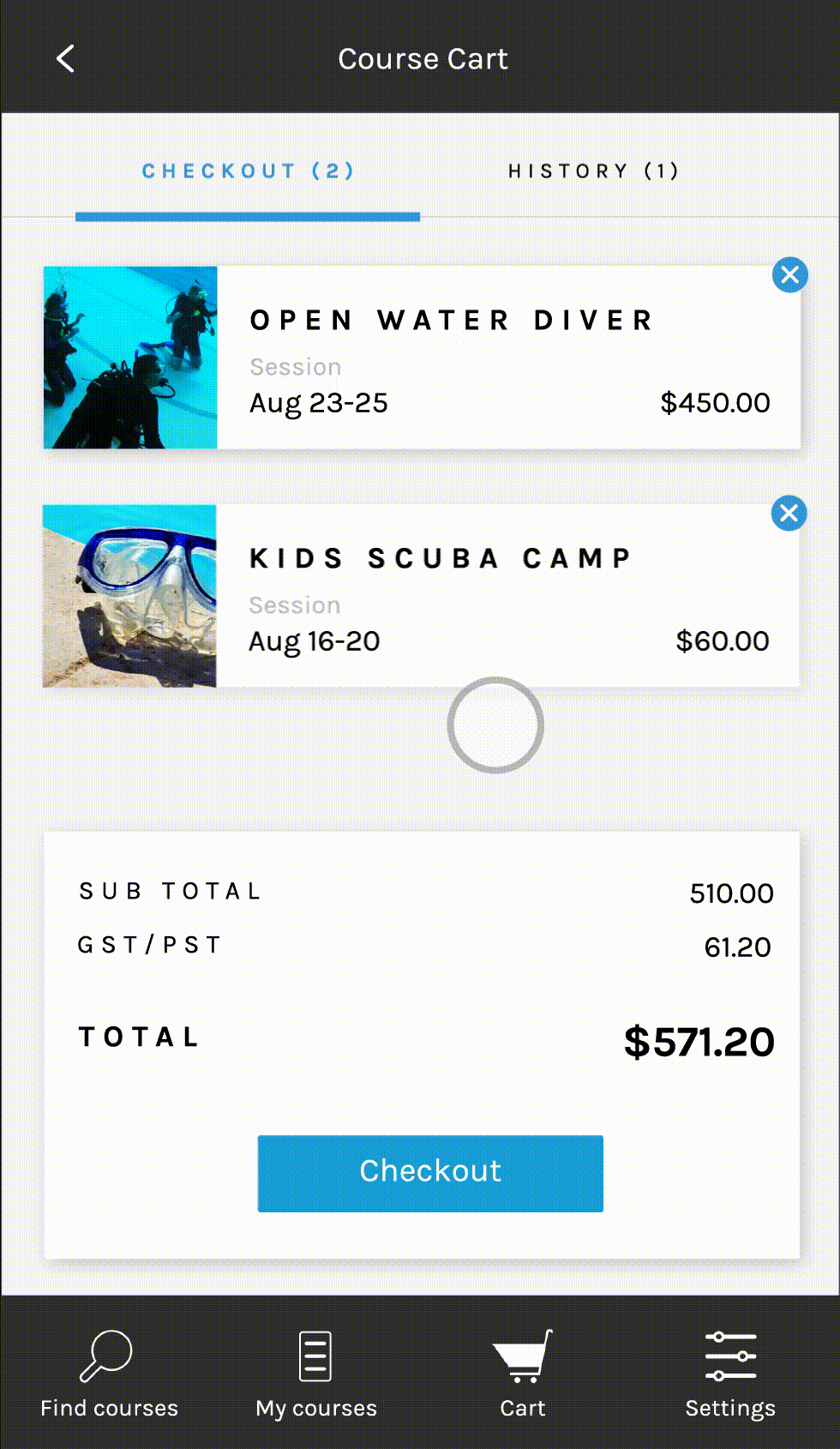 Trust through Transparency
Through our research, we found that people value seeing the price breakdown of the course before proceeding with payment.
In the payment process, we provide price breakdowns, equipment rentals, and clarification pop-ups to guide the user through the payment process.
This goes back to providing trust and accountability towards the diver and the establishment, which ultimately influenced the way we designed the course cart and payment process.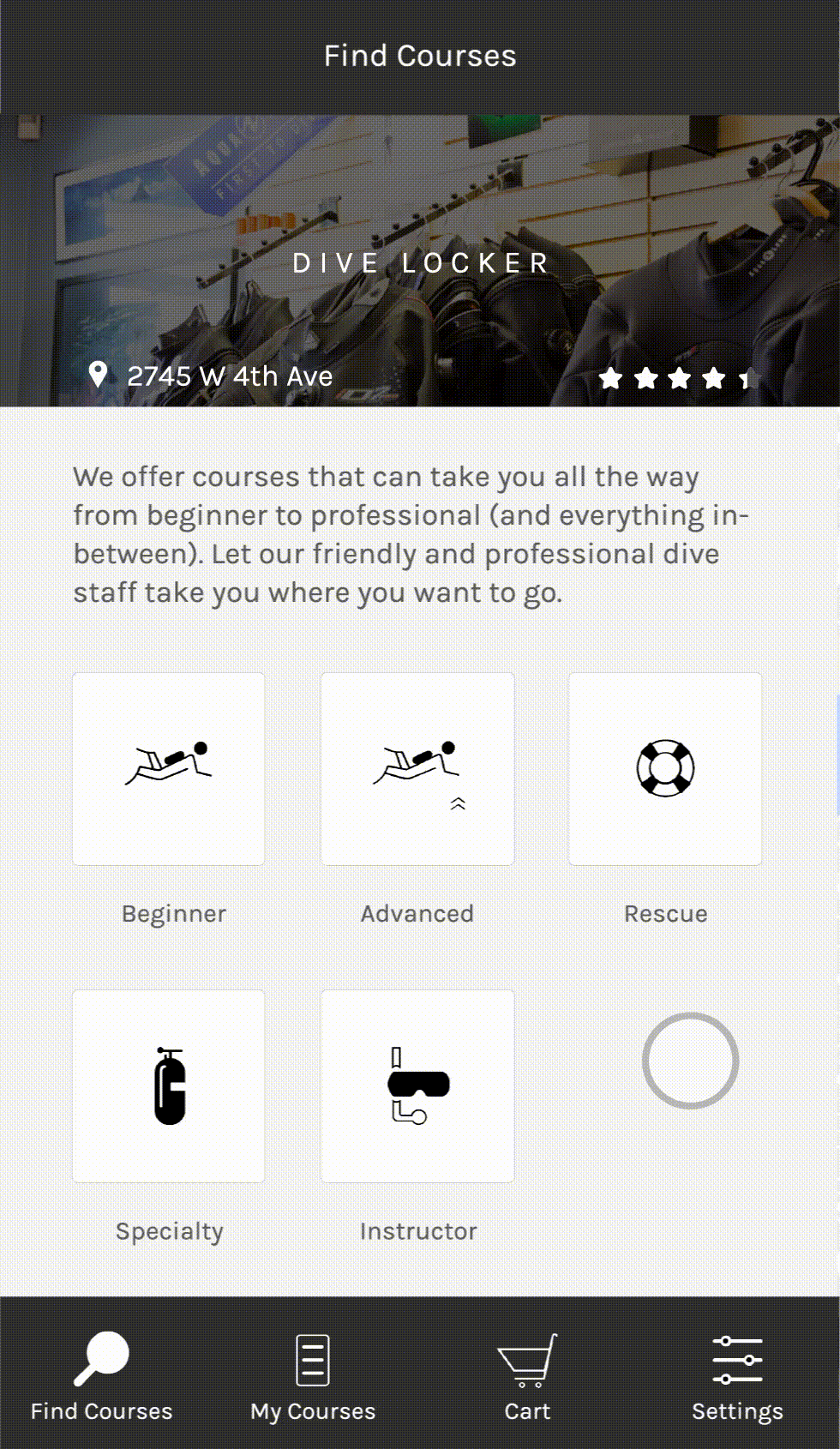 We found value in leveraging the opinions and lived experiences of divers in order to build a stronger sense of trust.
Having divers leave their experiences, whether negative or positive, ultimately influences the way others perceive and choose the course. This is why we implemented a rate and review system.
The crux of our 6 week case study can be summarized in this one quote from an interview we did with a dive expert.
"It is our duty to treat this world with the utmost respect and consideration. We are, in effect, ambassadors for ocean conservation."
This really struck a chord in us, especially as outside designers, we have an obligation to design products that further the betterment of life and also the environment around us.